With millions of apps on the market, it takes a strong competitive edge to win points with today's consumers. Whether you're looking to rise to the top or simply maximize your app's efficiency and ease of use, here are the top trends for apps in 2022:
AR and VR
Wearables
5G
AI and ML
Blockchain
These tools and technologies are already taking digital products and experiences to the next level, and you too can utilize them to not only give your users a better end-product, but make the development process easier.
1. AR and VR
Augmented and virtual reality are rising steadily, with the global AR, VR, and MR (mixed reality) market expected to reach almost $300 billion by 2024. As phones and other devices, like the iPad Pro, become more sophisticated in terms of cameras and processing, and as VR headsets become more popular, the door is wide open for app manufacturers to build AR and VR technology into their apps.
So what's the big deal with AR and VR? For one thing, in an increasingly remote and working-from-home world, AR and VR allow for "on-site" training and tours. They're also handy for convincing customers that a piece of furniture or decoration will look good in their home.
Here are some of the ways AR and VR are being used today:
Gaming
Employee training
Virtual conferences
Virtual modeling
Interior design
Data visualization
In-store navigation
Real estate tours
Enhanced educational experiences
Surgery visualization
As these examples show, AR and VR are already revolutionizing many everyday processes, from classroom experiences to hospital surgeries. And in 2022, we'll probably see even more AR and VR than ever.
2. Wearables
Wearables are in. Worldwide, the number of wearable devices has grown from 325 million to 722 million from 2016 to 2019. And in 2022, that number is expected to reach one billion. From Apple watches to Google's fairly new Wear OS, it's clear that people want more convenient access to their phones, apps, wallets, and data.
Not only that, but FitBits and smartwatches that monitor your physical activity may be able to help detect early symptoms of COVID-19 and other diseases, which makes them especially relevant in 2022.
What does this mean for app developers? If you want to give your product that extra competitive edge, integrating it with wearable devices may be a good idea.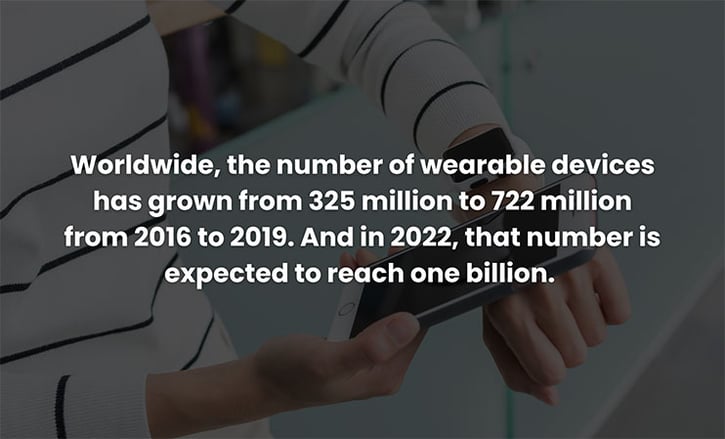 3. 5G
5G is quickly replacing 4G as the preferred mobile network, and it's easy to see why. Some of its key benefits include:
Faster loading times
Higher image and video resolution
Less video buffering
Smoother data transfers between devices
Faster, more secure mobile payments
Longer-lasting battery
More capacity for VR and AR
Ability to add new app features without affecting performance
The rise of 5G is good news for both app creators and users. Not only does 5G make app development, maintenance, and upgrades easier and faster, it allows for new features and integrations that weren't even possible a few years ago. And on the user's end, it makes for smoother, easier, more enjoyable digital experiences.
4. AI and ML
If you've been following tech trends for the past few years, it should come as no surprise that artificial intelligence (AI) is one of this year's top trends, along with machine learning (ML).
Chatbots, predictive analysis, speech recognition, and geolocation are just a few of the ways AI and ML support the user experience. AI can also boost security via fraud detection and facial recognition, a tool that companies like PayPal and Apple Pay are already starting to use for mobile transactions.
But AI isn't just for an app's end-users; it can save time and reduce human error during the development process itself. And it's also a powerful tool for leveraging data. As AI becomes even more widespread, it will probably find its way into wearables and IoT devices as well.
5. Blockchain
Blockchain technology, an electronic set of connected records, is now widely recognized as one of the most secure, efficient ways to handle and process data. Tamper-proof and easy to update, it's perfect for record keeping in the digital age. While it's most popular in the banking industry, it has widespread application—some hospitals have even used it to improve the storage and distribution of COVID-19 vaccines.
Today, blockchain technology is being used for things like:
Mobile wallets
Payment processing
Currency conversion
Digital identity and passports
Loyalty programs
Contact tracing
Voting security
Smart contracts
Cybersecurity
We'll probably see blockchain being used for even more solutions in 2022, since spending on blockchain is expected to reach nearly $19 billion by 2024.
Now that you know the top trends for 2022, you can use them to think outside the box and create a mobile app that's truly revolutionary.
Need help creating a trend-setting digital product? Get in touch!